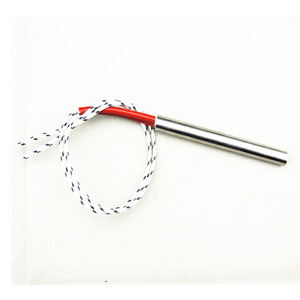 Cartridge Heaters
Cartridge Heater
Technical Detail:
1. Tube diameter: Φ5mm-Φ25mm
2. Tube Material: SS304; SS316,SS321,NICOLOY800 etc.
3. Insulation Material: High-purity Mgo
4. Resistance wire element: Ni-Cr or FeCr
5. Lead wire type: 300mm Standard (Teflon/silicone high temperature fiberglass)

Advantage:
1, Long-term service life, advanced design of interior structure, highly purified magnesia rod and powder, great heat conductivity, and special abrasive equipment.
2, Adopt special abrasive equipment, to ensure tube diameter is fit for operation equipment.
3, High heat efficiency and quick heat elimination.
4, Adopt imported lead wire which withstand 500ºC-800ºC,thus avoid short circuit happens on wire connect terminals.
5, Applicable especially to moving mode heating.
7, All products are manufactured as per CE Criteria.

Cartridge Heater Applications:
1. Liquid Immersion
2. Plastic Molds
3. Dies
4. Labeling
5. Medical Equipment
6. Platens
7. Packaging Equipment
8. Hot Stamping
9. Sealing
10. Injection Molding